Smart Infrared IR Universal Remote Control
Smart Remote
Universal Remote Controller
Smart Wifi Controller
IR Controller
Alexa Compatible
Google Home Compatible
Smart Life Infrared IR universal remote controller turns your smartphone into a universal remote and integrates control of everyday home appliances using a remote control in one easy-to-use app "Smart Life". Our Smart Remote works with Alexa/Google Assistant/IFTTT. When paired with Alexa, it gives you hands-free voice control of your devices, like turning on/off your TV or turning up/down the volume via voice command.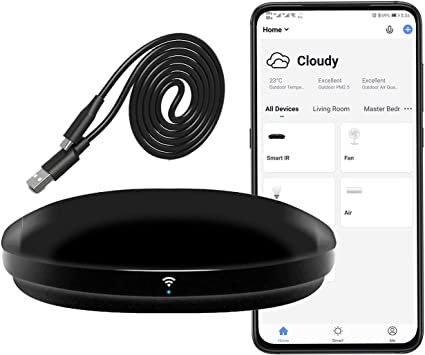 This is one of the most useful devices in Smart Home Automation because it makes everyday home appliances (using an infrared remote, such as TVs, AC, DVD, Decoders, Fans) smart.
The Smart Remote is capable of replicating the exact codes/signals from your existing physical remotes, but goes a step further by allowing you to execute this from the app on your phone through the internet, regardless of you being physically present in the house or not. The command sent wirelessly through your phone will prompt the smart remote to execute the command locally in the room. You can also use a voice assistant like Alexa or Google Assistant to issue these commands.
This opens many options for remotely powering and operating things. Imagine turning on your AC from outside, turning off the TV downstairs from your bedroom upstairs, or using your voice (Alexa or Google Home required) to turn down your TV's volume?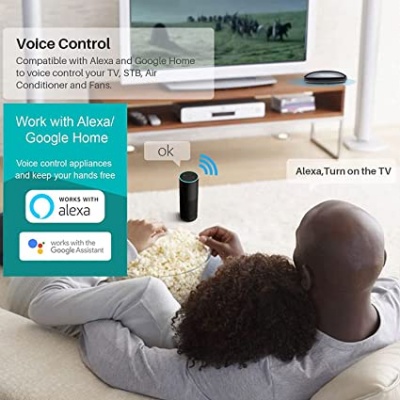 High compatibility:
Our Wi-Fi smart remote hub supports over 50,000 infrared entertainment and home appliances, such as TVs, Set-top boxes (Decoders), Video Recorders, DVDs, Projectors, Presenter Remote Controls, Home Theatre, Soundbar, Home Stereo Control, Air Conditioning, Fans, etc.
If your product isn't a popular brand and there's no cloud data to match, you can programme our smart remote to learn/copy your own physical remote in the app's DIY menu. In DIY option, face your physical remote to the smart remote and hold its power button until the app's indicator light flashes (about 20 seconds).
TV / AC CONTROL:
Turn on the air conditioner before you go home to enjoy comfortable temperature in advance, volume control of TVs, change TV channel by number. With the free and easy-to-use Smart Life app for iOS and Android, you can remotely control an IR device from home or away.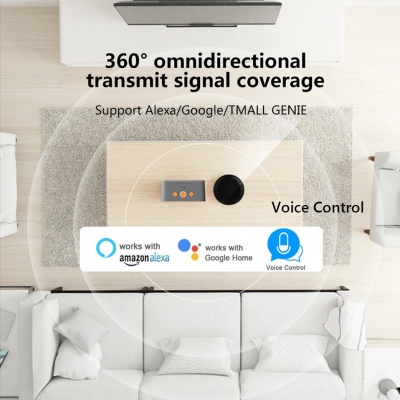 Voice control and IFTTT:
Use Amazon Echo or Google Nest for simple settings to easily voice control your IR equipment, IFTTT can add more home automation settings. In Amazon Alexa/Google Home Apps, enable the skill/service named Smart Life, link account and discover devices.
Siri voice control is available on the iPhone by creating a "Tap to Run" automation in Smart Life App and adding it as a Siri shortcut.
Function:
Control smart home devices with timers and custom scenes. Simple setup creates a smart home. The smart remote requires Wi-Fi.
Our remote control is for appliances that use Infrared Remotes (38K kHz), not for Radio Frequency (RF) devices.
Our Smart remote has a 10m range and 360-degree control. This means it can control devices and appliances within a room (less than 10m from smart remote), so long as there is a clear line of sight between remote and appliance and no walls blocking them. Both your physical and our smart remotes' infrared cannot penetrate walls. So, you'll need one device per room.
Share Control with Family
Families can share the remote with each other via invite and join function in the app, thereby, Sharing the access control together.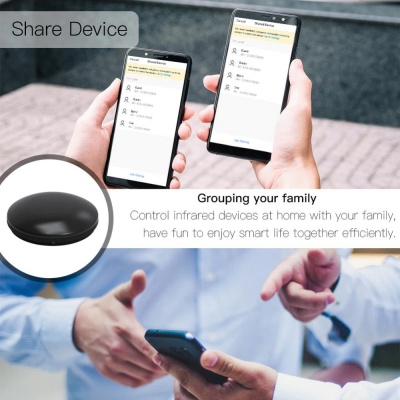 Specifications:
Product Name: Smart WiFi-IR Universal Remote Controller
Support: TV, Air Conditioners, fans, DVD, covers above 95% infrared devices
DIY function: can learn new and unpopular brand remotes
App Name: Smart Life
Compatibility: Alexa, Google Assistants, IFTTT
Input: 5V/1A
Power cable: USB type C
Infrared Frequency: 38Khz
Infrared Direction: Multiple direction
Wi-Fi Frequency: 2.4 GHz 802.11b/g/n
Dimension: 68*68*17mm
Weight: 70g
Infrared distance: ≤10M 
What's in the Box:
1* WiFi-IR Remote
1* User Manual
1* USB type C Cable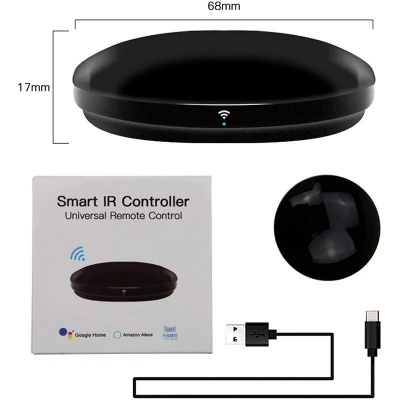 Availability: 20 in stock