Smart Aurora Moon & Starlight Projector Lamp
Smart Projector Lamp
16 Million Colours
Mood Lighting
Smart Home
Home Decor
Smart light
Smart Lighting
Tuya Light
Google Home Compatible
Alexa Compatible
Smart Aurora Moon and Starlight Projector with Bluetooth Speaker from SmartHome Tech NG creates a relaxing ambiance in your home by simulating the northern lights and illuminating the room into a gorgeous atmosphere with exquisite colours, bright stars, and a hanging moon.
The projector lamp also has an embedded Bluetooth speaker that can be paired with your phone to play music, while also projecting lights into your home simultaneously. It can be controlled not only from the buttons on the lamp, but also from the Smart Life or Tuya App, and compatible with Alexa and Google Home.
SEE PRODUCT VIDEO ABOVE THIS PAGE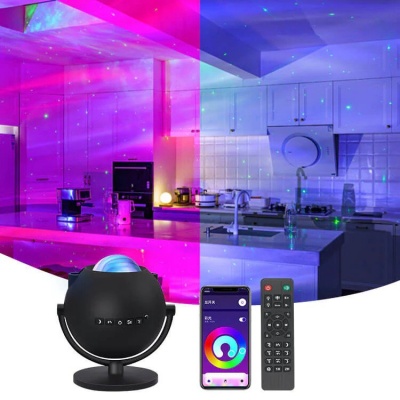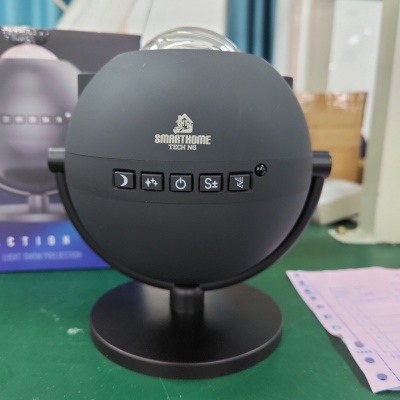 16 MILLION AURORA COLOURS
This projector is compatible with any android or iOS phone. It takes only a few seconds to set up and you can choose from a nearly infinite number of aurora colours using the colour wheel on your smartphone. From cool crystal blue to fiery red, you can set the mood easily by selecting any colour you can think of. You can even go white!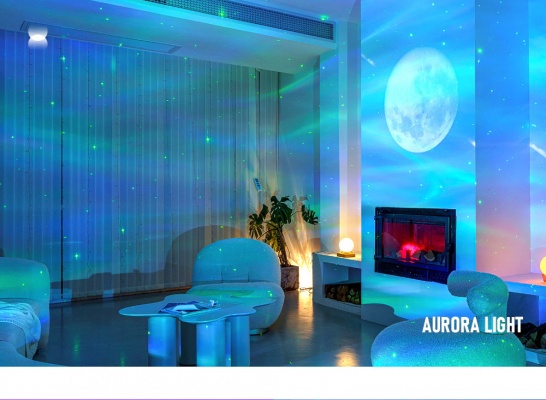 SMART APP INTEGRATION WITH PROGRAMMABLE SCENES
You can create and save the different star, full moon, and aurora combinations as 'scenes' for each of your moods. Also, integrate with Alexa or Google Home to use voice commands to control the smart lamp. This creates an amazing and interactive experience and transforms your room into an aesthetic haven. You will never see the Northern Lights quite like this.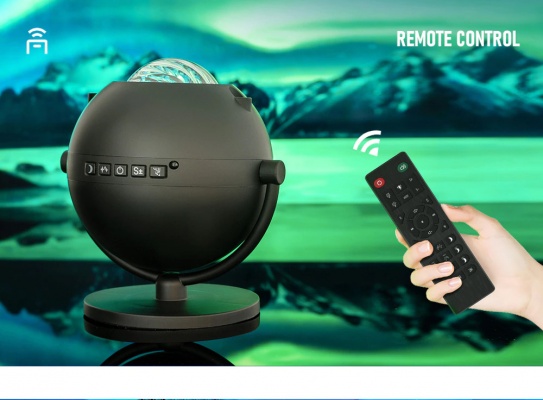 SOUND & MUSIC ACTIVATED MOTION
Turn on soothing music to watch the aurora projector lamp sync and change according to the sound of the music, which will create the calm or lively atmosphere that you want. Cast a romantic fantasy starry sky in your bedroom every night while playing your favourite music.
Connect the Smart Projector Lamp to your smartphone via Bluetooth to play your favourite music. By combining your choices of lighting and sound, you can create the perfect ambience for any occasion. In voice-activated mode, the Aurora Starlight projector can change the light according to the beat of music or the change of clapping hands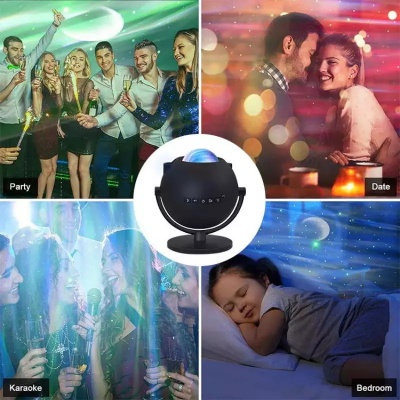 SET TIMERS AND CONTROL SCHEDULES
Program your projector to switch on and off during a specific time and day of the week, depending on your preference. What's more, you can set automatic sleep timers, so you get a fully automated experience. The lamp has a built in 1H, 2H automatic shutdown timer function,
ADJUSTABLE MOVING NORTHERN LIGHTS & STARS
The stars and the nebula can move as slowly or as quickly as you want them to. You can slow it down when you unwind or increase the pace when you want to make your room more lively.
ADVANCED ADJUSTABLE BRIGHTNESS
Easily adjust the brightness of your nebula and stars individually. You can opt to dim the stars and increase the aurora for a more airy feel — or you can dim the aurora and brighten the stars to mimic the night sky — anything goes!