Smart light
Smart Bulb
Smart Lighting
Wifi light
Home Automation
Smart Wifi Light
Google Home Compatible
Alexa Compatible
Smart Wifi LED Bulb
REMOTE CONTROL: You can control the smart light bulb anytime and anywhere through your mobile phone. Whether you are working in the office or on vacation, you can adjust the light status at home at any time.
VOICE CONTROL: LED light bulbs can work with Alexa and Google Home Assistant. You can use simple voice commands to easily turn on/off the lights, change the light colour, and dim the brightness.  
TIMER & SCHEDULE: The colour-changing light bulbs can be turned on/off automatically through the SMART LIFE mobile APP, and you can also set a countdown timer. Set the smart led bulb to turn on or off at a specific time, so you can turn on the lights when you go home, turn off the lights when you go out.
BRIGHTNESS DIMMABLE: Our led bulbs have a dimming range from 0% to 100%. You can set the brightness for different purposes, such as kitchen lights, reading lights, or bedroom lights. Turn your smart light bulb to suitable brightness to wake up your child in the morning or dim it to let them fall asleep safely at night. Our light bulbs provide standard Warm white, Cool White, and Daylight White colours + RGB (Red, Green, Blue) and multiple shades (16 million colours) so you can create a relaxing and comfortable atmosphere by setting the bulbs to the appropriate brightness as needed.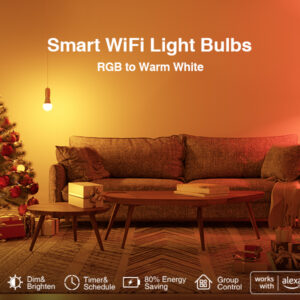 ENERGY-SAVING & EASY TO INSTALL: The 9W smart light bulbs are equivalent to 60W traditional incandescent bulbs, saving consumption up to 80 percent. When installing, just screw the smart led bulb into any standard E26/E27 lamp holder or fixture. Lifespan of the smart colour light bulb can approximately last 30,000 hours
SMART HOME DECOR: Create different ambience for Party, Dating, Birthday, relaxing and other occasions. Great for Graduation, Halloween, Christmas
MUSIC SYNC: Lights can sync with Music and change colours in relation to the beats. Choose the Music sync setting in the smart life app.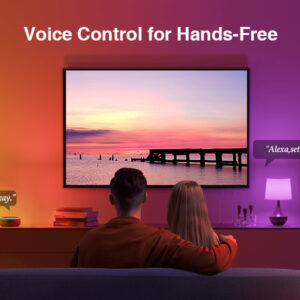 Product Description
Feature:
1. Support for Smart Life APP to control the bulb anytime and anywhere, regardless of distance.
2. Set the perfect lighting for any occasion, adjust the brightness from warm white/cool white to a variety of RGB colors.
3. Supported by the Internet of Things chipset, with a longer WiFi connection range and a lower offline rate.
Specification:
Item Type: Smart Bulb
Light Color: RGB+W+C
Support Dimmable: Yes
Power: 9W
Color Temperature: 2700K-6000K
Luminous Flux: 806lm
Support System: For IOS/ for Android
WIFI Specification: 2.4GHz
Certification Qualification: CE, ROHS, FCC
Support APP: For TUYA, Smart Life.
Application: For smart devices, for Google Home, Alexa, for Tmall Genie, for Xiaomi, etc.
Package List:
1 x Smart Bulb 
1 x Instruction 
Installation Procedure:
Launch the Smart Life app on your smartphone. You may get it from the App Store or Google Play Store.
Register for a free account.
On the main screen, select "Add Device" by tapping the Plus icon in the right upper corner.
On the left, choose Lighting.
Next, choose Light Source from the right side (Wi-Fi).
Enter your WiFi information on the following page.
Now switch your light bulb on and off three times, and the light will begin to blink quickly.
Comply with the on-screen instructions and make sure the Smart Life app's indicator is blinking quickly.
The lightbulb will now be added to the app, and you may give it any name you like.
Fantastic! Now, all you need is your smartphone to turn on and off smart LED lights.