Smart Wifi Downlight 2.5″ – 5W
Smart light
2.5 inches diameter Light
Smart Lighting
POP Wifi light
Recess light
Tuya Light
Home Automation
Smart Wifi Light
Google Home Compatible
Alexa Compatible
PRODUCT DESCRIPTION
5w Smart Wifi Recessed Down Light – 2.5 inches in diameter
Brightness, colour, and colour temperature are all adjustable.
Dimmable: 1%-100% adjustable brightness for reading, working, and sleeping.
With over 16 million colours (RGBCCT), our smarthometechng smart recessed lights bring a vibrant and mood-boosting environment to your home.
Each LED light already comes with warm white light, cool white light, daylight white light (2700K- 6500K) and a rich mix of vibrant colours. Just choose whichever colour setting from the phone app or with your voice (Alexa or Google Home required) on demand! Can be changed to any setting at will (White, Red, Blue, Yellow, Pink etc)
5w LED is 2.5 inches in size.
No additional hub required.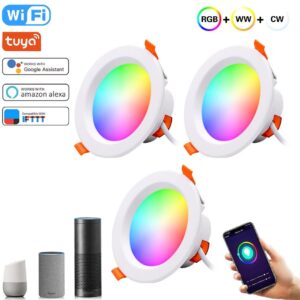 Voice Control
Smart Recessed Lighting is Compatible with Alexa & Google Assistant. Use simple conversation starters to turn your smart lights on and off, set colour, make them brighter. Release your hands.
 APP Control
To control the recessed lighting – Download the Smart Life APP or TUYA APP to connect and enjoy intelligent control. NOTE: Only supports 2.4 GHz Wi-Fi.
Make your own schedule to turn off/on recessed lighting.
Recessed light can be controlled singly or in groups.
Remotely control the smart downlight through the APP.
Share user access and control with others in your home
With memory function – will stay at the last setting you choose, if power goes off in your home, no need to reset it.
 Music & Mic Sync
Open the Music Scene in the app and the smart recessed downlight colours will change with the music beats, or your microphone, or hands claps, gaming sounds etc. This function only works in the APP, NO Built-in Mic or Speaker.
 Brightness & RGBCCT Adjustable
Excellent CRI (colour rendering index) greater than 80, smart recessed lighting supports warm white, cool white AND daylight white from 2700K to 6500K. Provides 16 million colors.1%-100% brightness is adjustable. 8 scene modes; also, you can also DIY the scene modes you want. 85v-265V light outputs 810lm which equals a 60W incandescent lamp yet only consuming 5 watts. Use 90% less energy than 60-Watt Incandescent Bulbs.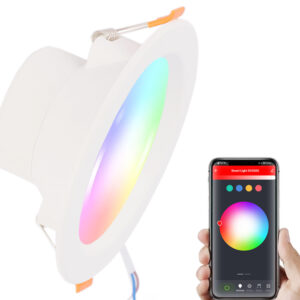 ENERGY SAVING & LOW CARBON LIFE
Availability: 20 in stock