16a Smart Plug With Energy Monitoring Function
16a Smart Plug,
Real Time Energy Monitoring
App and Voice Control
Smart Wifi Plugs
Countdown Function
Timer
Schedule
Remote Control
Family Sharing
16A Tuya Smart Plug Wifi UK Plug (3pin), compatible with Google Home & Alexa Voice Control, and Energy Monitoring, Timer Function, Countdown 
Description:
Have you ever wished you could remotely turn on electrical equipment like refrigerators and other appliances from your home or from anywhere in the world? Consequently, this is your chance to achieve this via the 20amps Smart Plug. Unlike other smart plugs, this is rated for both small (TVs, Fan, Makers) and heavier appliances such as Freezers, Refrigerators not exceeding the rated 16amps.
Our Smart Plugs are 100% Brand new and high-quality remote ON/OFF Smart Plugs. Turn your electrical devices on/off from anywhere with your phone or voice (Google Home or Alexa required).
App Support: Smart Life App Available on IoS and Android Stores
Sync Status: Real-time device status (On or Off) provided to App
Energy Monitoring: Real time and historical energy consumption records available
Timing: Set scheduled/countdown/loop timers to turn on/off at specified time
Share Access Control: Control your smart home together with your family by sharing user
access to them through the app.
Smart Scene: Turn on/off a gang of devices with one tap
Smart Scene: Triggered on/off by temperature, humidity or other environmental conditions,
through the smart life app.
Voice Control – Works perfectly with Amazon Alexa and Google Assistant
Portable and durable, easy to carry, lightweight
Supports Wifi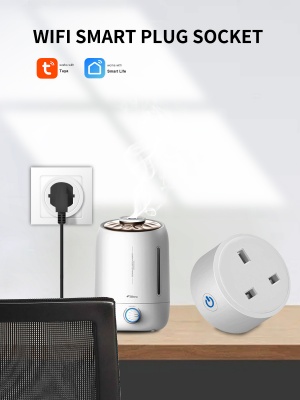 Specifications:
Input voltage: 100-240V, 50/60Hz
Output current: 16A
Housing: ABS PC fireproof material
Specifications: UK Plug (3 Pins)
Certification: FCC/ROSH
Working temperature: -20C – 50C
Wifi distance: 50 meters outdoors, indoors up to 30 meters (depending on building materials and structure)
Wifi type: 2.4GHZ 802.11b/g/n
App: Smart Life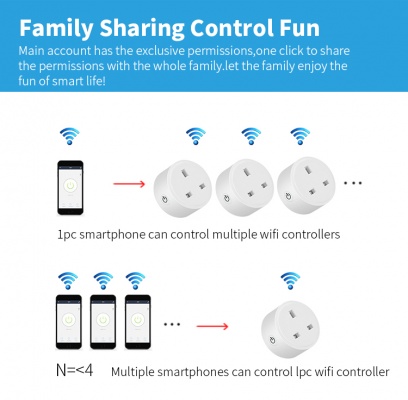 Package Includes:
1Smart Socket
1 manual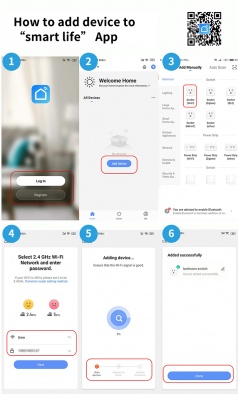 How to add device to mobile app
1. Scan the QR-code of the manual or Search ' Smart Life ' to download and install the device's APP and sign up.
2.Insert the plug and then turn on the power.
3.If the indicator (red light of the smart switch) flashes continuously at this time, it indicates that the smart plug has entered the pairing state and waiting for connection to Wifi; then open the APP and follow the instructions to connect to Wifi.
4. If the indicator light of the smart switch is not flashing red light, please press the button of the smart switch and keep it for more than 5 seconds until the red light flashes continuously, then open the APP and connect to the Wifi according to the manual.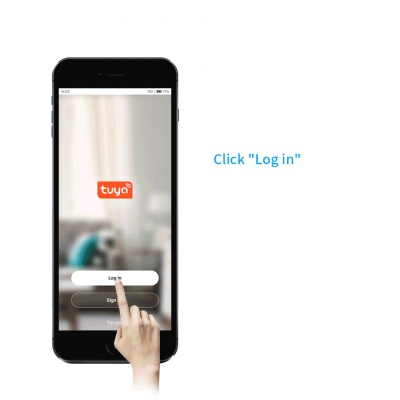 Availability: 10 in stock