Smart Wifi Smoke Alarm And Fire Detector
Smoke Alarm
Fire Alarm
Smoke Detector
Smart Smoke Alarm
Wireless Smoke Detector
Smart Fire Detector
Smart Security
Alexa
Google Home
Instant Notifications
Be alerted to fire hazards through both app messaging and the detector's piercing 80-dB alarm.
This smart smoke and fire detector, in contrast to more conventional smoke detectors, sends instant, real-time notifications to your smartphone as soon as smoke is detected; or the device's status changes. This way you know something is wrong even when you're away from home.
High Sensitivity and Low Power Consumption
This Smoke detector designed with 360 degrees comprehensive high sensitivity monitoring, with LOW voltage & fault prompt function and will warn when there is low power.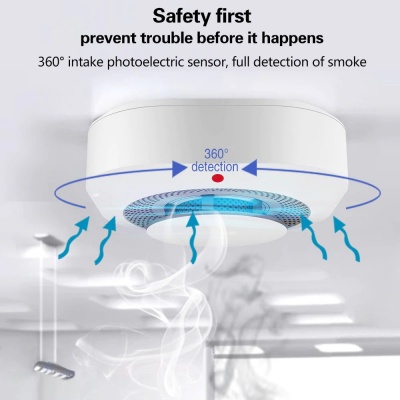 Historical Alarm Log:
Every time the smoke alarm is activated, it stores a log in the app. You may then analyse the data of the incidents at any time, seek for better ways to deal with the causes, and enhance your overall fire safety. Additionally, the history logs make it quite clear what kind of alarms, i.e., Real Smoke Alarm or regular alarm test.
Easy Installation:
Install this alarm in only minutes with the provided screws or adhesive tape, then add it to the Smart Life app to get started. This device is also compatible with Alexa and Google Home.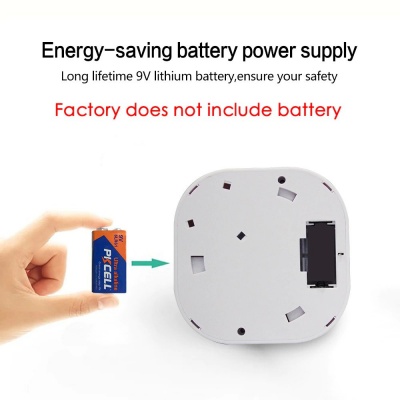 Self-Check Function:
This smoke alarm continuously checks its circuits, electronics, and battery status to ensure it is properly functioning.
Instant Alerts:
Be alerted to fire hazards through both app messaging and the detector's above 80-dB alarm.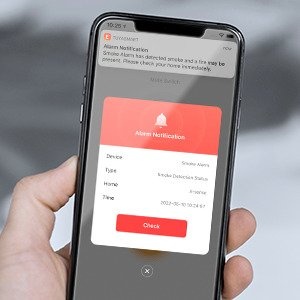 Premium Material:
The alarm is housed in a flame-retardant high-temperature-resistant ABS material for enhanced quality, durability, and longevity.
Wide Application:
It is suitable for fire prevention in many places such as Homes, Schools, Warehouses, Hotels, Religious Places, Factories and so on.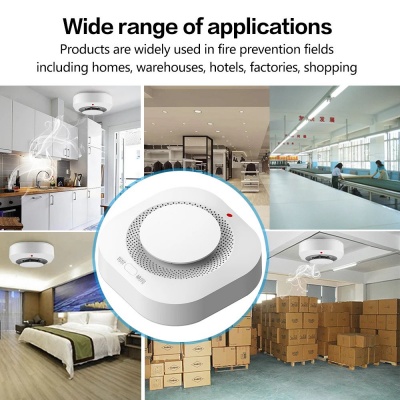 Silence at Your Fingertips:
Tap to silence a false alarm in the app, without having to climb or reach to push the button on the device.
Description:
Input Voltage: DC9V Alkaline Battery (Included – Complementary)
Static current: 10uA
Alarm Current: 100mA
Low battery alert: 6.5±0.5V
Alarm Sound Level: Greater than 80db/2m(2.4GHz)
WIFI: 802.11b/g/n
Working Temperature: -10-50 degrees C
Tuya/Smart Life APP control
Compatible with Amazon Alexa / Google assistant
Package Includes:
1*Wi-Fi Smoke Detector
1*User Manual
9v DC Battery – Complementary inclusion
Installation Screws
Notes:
Notice: To Install the Battery you need to twist the Smoke Alarm's base counterclockwise to access the battery compartment.
App Installation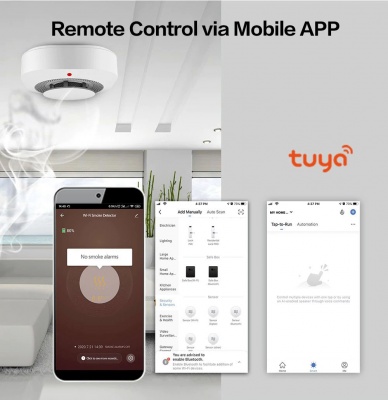 Mute: in alarm status, press the 'TEST' button to mute the buzzer, only LED indicator flashes.
Testing: in normal status, long press 'TEST' button for 2s to trigger the sound & light alarm, alarm message is pushed to the mobile APP.
WiFi Configuration & Setup
Install "Smart Life APP" before using the detector and connect your phone to 2.4G WiFi (5G not supported).
a) Launch the APP, click 'Add device'—-'Security Sensor'—-'Sensor (WiFi)'/"Smoke (WiFi).
b) Press 'TEST' for 5 seconds till LED lights 'Di' (long press the button within 20s of loading the battery to enter WiFi configuration mode).
c) Click 'OK' on the APP—enter the WiFi password and click 'OK' The detector enters configuration mode for 60 seconds.
A 10-second long 'Di' beep means WiFi configuration is complete.