Wyze Cam V3 1080p Hd Indoor / Outdoor Smart Camera
Wyze Cam v3 1080p HD
Indoor/Outdoor Video Camera
Colour Night Vision
Two way Talk
Mini Siren Feature
Recording and Playback
Cloud and Local Storage
Smart Wifi Camera
Wyze Cam v3 1080p HD Indoor/Outdoor Video Camera for Security, Baby Monitor, with Colour Night Vision, 2-Way Audio, Works with Alexa & Google
Wyze Cam v3 is a smart wifi camera that lets you see and record 1080p video right from the Wyze mobile app (download from iOS or Play Store) on your phone.
The Wyze Cam v3 is waterproof with an IP65 rating allowing for both indoor and outdoor installation.
Wyze Cam v3 also takes advantage of an all-new Starlight Sensor which allows for extreme low-light performance and shows great detail in the dark. With Wyze Cam v3's colour night viewing, night-time video recording appears as if it's daytime.
No need to buy a DVR or NVR for this camera system; view live videos/feed through the Wyze app on your phone, the camera is also compatible with Alexa and Google Smart Home devices with screens and can also be viewed there as well.
FEATURES
Colour Night Viewing
Starlight CMOS Sensor helps you to see in ultra-low-light conditions.
Wyze Cam v3 is capable of seeing in colour at night with very limited lighting. Record night time video in full, vivid colour in environments up to 25x darker than traditional cameras. You can even use it to watch the stars or take a time lapse of the stars.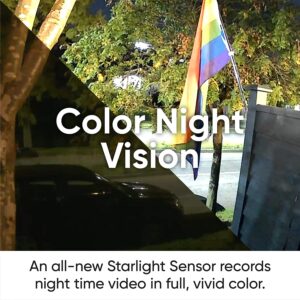 Indoor and Outdoor Use
IP65-rated weatherproof with extreme temperature tolerance from -20°C to 45°C, the camera can be mounted anywhere inside or outside your home and stand up to any weather conditions.
Crisp HD Image
An improved sensor and lens lets the v3 capture extraordinary images and videos in any light. It is the best in its class.
Cloud and Local Storage
Free 14-day rolling cloud storage right out of the box for 12 seconds video clips and the option for 24/7 continuous local storage of video (requires 32gb class 10 microSD card – not included). Videos in the cloud can always be viewed for up to 14 days after their recording.
Versatile Mounting
Your camera can be mounted 3 ways – with the easy magnetic mount, secure screw mount, or the¼" mount onto your existing mount.
Real 2-Way Talk
Wyze Cam v3 comes with simultaneous 2-way communication. Greet and speak with visitors with loud two-way audio. The Wyze Cam v3 also has a siren button you can press to scare off unwanted guests.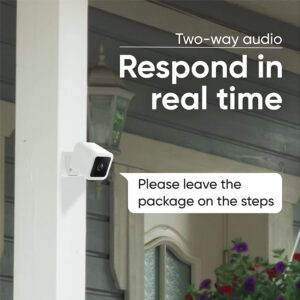 Dual IR light System
The Near-IR lights for indoor use are invisible to the human eye so you won't be annoyed by red dots. The far-IR light for outdoor use, to illuminate farther and see clearer.
Mini Siren Feature
Use the improved speaker as a siren to warn away intruders with a loud sound. Control the siren from the Wyze app.
Motion and Sound Detection
The Wyze Cam records video when motion & sound are detected and sends an alert to your phone. Motion Detection Zones let you adjust the sensitivity of detection.
IN THE BOX
Availability: 11 in stock