Smart Corner Led Floor Lamp Light Compatible With Alexa – Google Home – 3 Legs
Smart Corner Lamp
16 Million Colours
Mood Lighting
Smart Home
Home Decor
Smart light
Smart Lighting
Tuya Light
Google Home Compatible
Alexa Compatible
Product Name: Tuya Smart Wifi LED Floor Lamp
Brand: Tuya / Smart Life
Model No: CP-CFL02WIFI-56
Smart LED Corner RGBW Floor lamp with 3 Legs Base. No physical Remote Control, control from your phone through the Smart Life App. With 16 million Colour compatible Options, Dimmable, Music Sync Option – Standing lamp with foot press power switch – for modern Office, Bedroom, Game Room, Cinema, Clubs etc.
Works with Smart Life APP, Alexa and Google Home for Voice and Phone Control. Through the phone app you get access to a lot more colour options to choose from, and once setup, it can be controlled from anywhere you are in the world.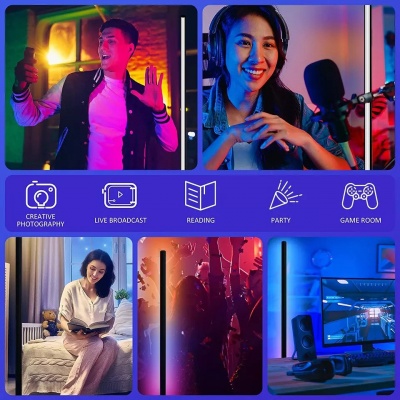 Description:
Corners are a part of every room, most of them are empty. The SmartHome Tech NG beautifully designed space saving CORNER LAMP with a minimalist style that fits discreetly and perfectly into corners. A true mood lamp, that creates the ideal ambience for any occasion. The Corner lamp is an amazing lamp, a true game changer in lighting and can be setup by anyone within a few minutes!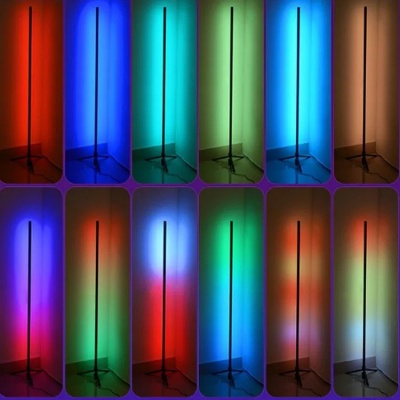 Multi Control Immersive Lighting: LED corner light is compatible with Alexa and Google home. You can control it by sending a voice command: "Alexa, turn on the corner light". The brightness, colour and mode of the light can also be adjusted using the Smart Life/Tuya Smart APP or the remote control. Warm and soft LED lights create a romantic and vibrant atmosphere. Note: Only 2.4GHz Wi-Fi is supported, 5GHz is not supported.

RGBIC Smart Corner Light: Gorgeous RGB corner light, LED floor lamp with multiple lighting modes, including daylight white, static RGB and rainbow-like dynamic colours. A variety of combinations to create the ideal colour-changing mood lighting for you. Unique Nordic style design saves space. The simple and special design is more elegant. No matter what style of decoration your home is, it will fit perfectly.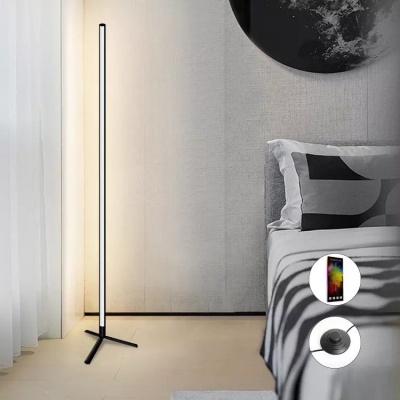 1%-100% Dimming & Creative DIY Scene: Corner floor lamp can adjust the brightness, speed and the number of lamp beads through the APP. It also provides you with a lot of great features. You can completely freely choose any colour, brightness and colour change method to create a specific scene to suit your own mood. This means that you can DIY different scenes for your personalized lighting program through ambient lighting.
Music Sync Voice Control Rhythm: The RGB corner light has a music voice control mode, which can be synchronized with any music type. The LED light pulses to the rhythm of your favourite songs, it can take up minimal space and add ambient light to your space, swivel the stand light towards the corner for the best viewing experience.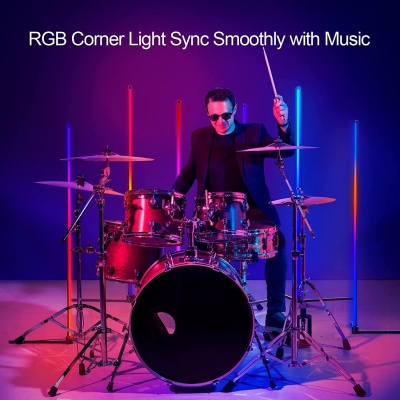 Very Easy installation and Excellent quality: makes the product stable and durable, we provide the tools you need for this LED corner light, the installation steps are simple and quick. The exquisite design makes it not only a lamp, but also a minimalist decoration to transform any space for modern life.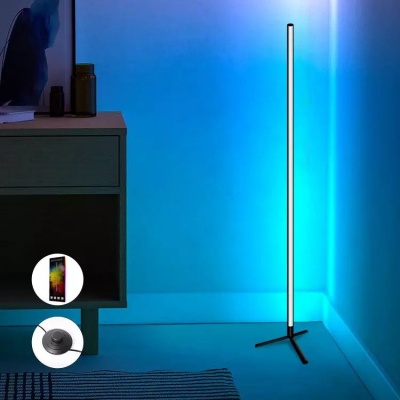 Mood Setting
16+ million colours
350+ multicolour modes/effects (use phone app for more colour options)
Warm white dimming – you can dim the brightness by the dimmer;
RGB colorful, you can control the RGB and brightness by remote;
Wireless Control through the Smart Life App – once connected to the app and wifi it can be controlled from anywhere in the world.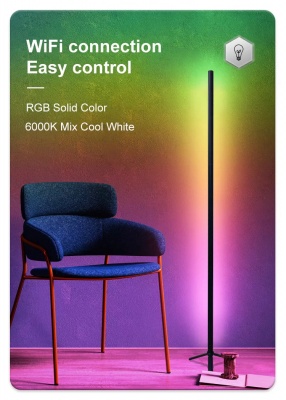 What's in the Box/Package: (See video above for Installation)
3 Stackable poles for the Height
1 Base (Expand to form 3 legs)
1 Power Adapter
1 Foot Press Switch 
1 User Manual.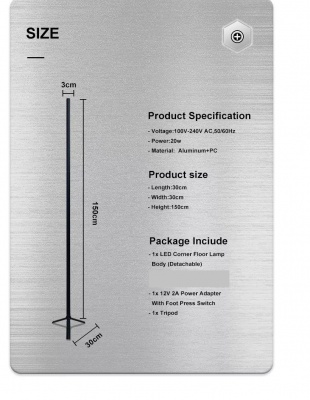 Specification:
Model No: CP-CFL02WIFI-56
Name: Tuya Wifi Floor Lamp 
+ App Name : Smart Life / Tuya 
+ Material: Aluminium
+ Height: 150cm / 55″
+ Leg length: 40cm/ 16″
+ Light: 20W LED
+ Dimmable
+ Lamp life: 25,000+ hours
+ Input voltage: 200-240V / 20W / 50/60Hz
+ Assembly Required – very easy
+ Universal Worldwide Adaptor Included – suitable for worldwide use.